Book Signing at the Mommy Mundo Bazaar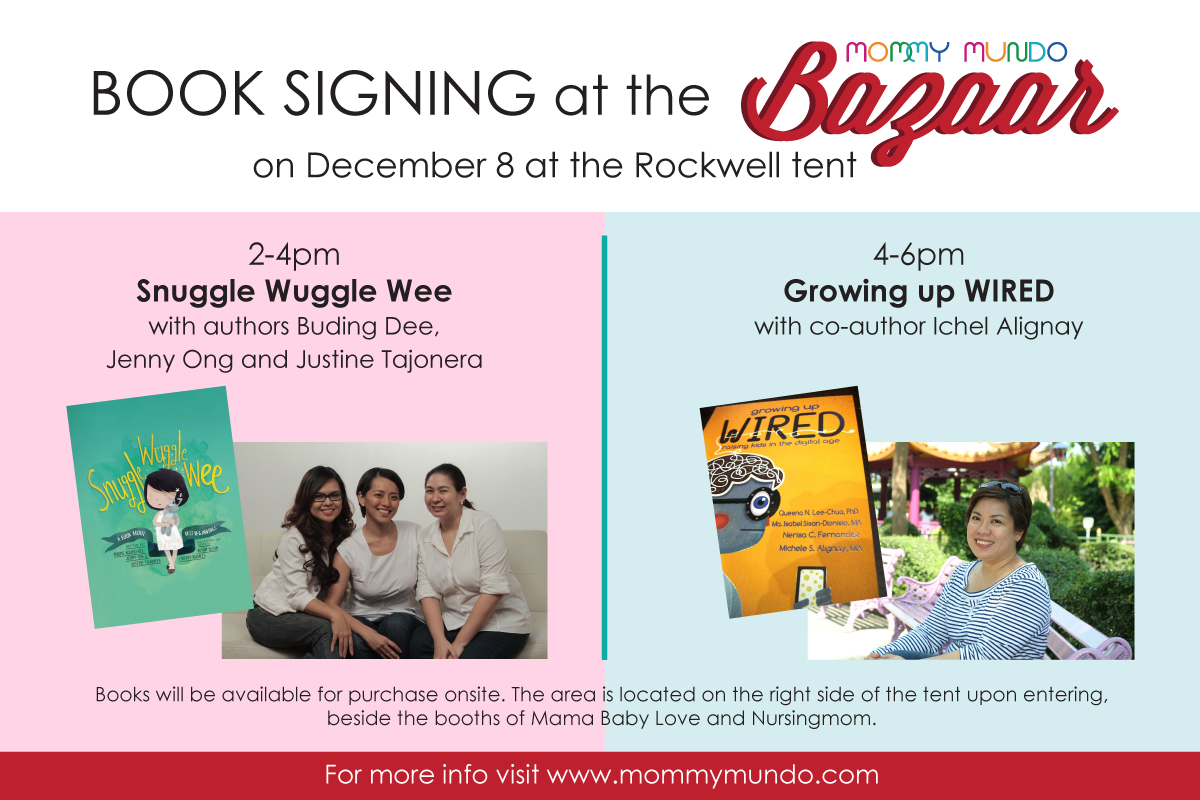 The past month has seen some Mommy Mundo friends becoming published authors and we are happy to celebrate with them and give you all the opportunity not only to grab your very own copies of their great work but also to have the books signed at the upcoming Mommy Mundo Bazaar on December 8 at the Rockwell Tent. 2-4pm BOOK SIGNING of SNUGGLE WUGGLE WEE with co-authors Buding Dee, Jenny Ong and Justine Tajonera
4-6pm BOOK SIGNING of GROWING UP WIRED with co-author Michelle Alignay
SNUGGLE WUGGLE WEE is a storybook co-authored by three very active moms and breastfeeding advocates from Latch, Buding Aquino Dee, Jenny Ong and Justine Tajonera.
Watch this trailer to know more about Snuggle Wuggle Wee
ABOUT "SNUGGLE WUGGLE WEE" (from the website www.snugglewugglewee.com)
Snuggle Wuggle Wee is about a young girl named Clara who is waiting for her parents to come home from the hospital with her baby brother, Paolo. The story then goes on to describe a family's closeness and how breastfeeding is just a part of the love that a family shares. The story was a collaboration among LATCH members, Buding Aquino-Dee, Justine Tajonera and Jenny Ong. It took several months, a lot of crafting, and a lot of determination to come out with the book. Part of the creative team is illustrator, Bryan Delfin, who brought a lot of light and made poignant moments come to life in the book.
ABOUT "GROWING UP WIRED"
"Growing Up Wired" aims to answer common questions on raising Filipino kids today: How can we use social media wisely? How do we deal with our kids gaming addiction? How can we motivate kids to read and socialize healthily? How can we talk so kids will listen? How can we integrate technology effectively in school? Raising our children and holding their hands while wisely and responsibly navigating the wired world is an immensely difficult challenge. But it can most definitely done. The book is authored by Dr. Queena Lee Chua, with co-authors and experts, Ma. Isabel Sision Dionisio, Michelle Alignay and Nerisa Fernandez.
Booth books will be available onsite at the Bazaar at the following locations: Snuggle Wuggle Wee will be available at the booths of Celestina & Co and Nursingmom while Growing Up Wired will have a booth at the bridgeway near the registration area.
Hope to see you then!