Healthy Family Meals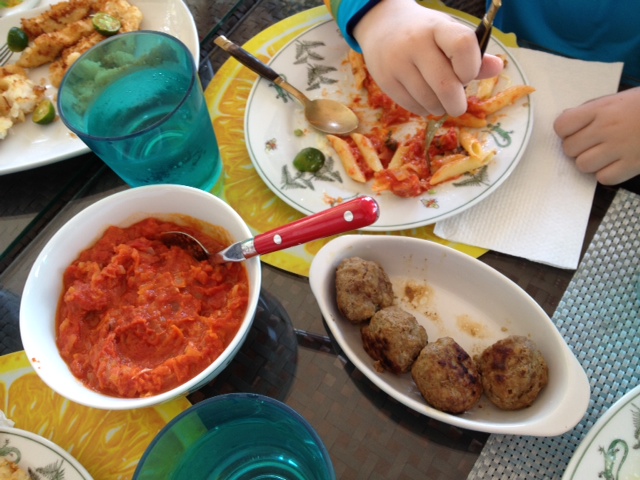 The authors Katrina and Lara
Serving healthy meals which taste delicious as well is always a challenge for moms. This everyday task is made even more difficult, say Kat Ripoll and Lara Saunders, authors of Healthy Cooking for Happy Kids, because of the many of fast food places all over the metro and television commercials marketing junk towards kids. They add, "It may be hard, for example, to give your kids a healthy balanced baon when his or her classmate brings hotdog and rice or donuts to school on a daily basis."
You can guide your children to eating healthy meals by filling your pantry with wholesome ingredients and involving them in menu planning. Together, you can whip up healtheir versions of their favorite recipes. Here, Kat and Lara show us how to make two dishes for a great meal:
Marvelous Marinara Sauce This tasty tomato sauce is perfect for pasta, rice, or meatballs. 1 large white onion, chopped 2 tablespoons olive oil 4 cloves garlic, crushed 1 stalk celery, chopped finely 1 medium carrot, chopped finely 2 cans crushed tomato 1/4 cup malunggay leaves, chopped finely 2 tablespoons each, fresh basil and oregano 2 large bay leaves 1 teaspoon muscovado sugar
• Over medium heat, sauté the onions in olive oil until soft. • Add the garlic, celery and carrots, and after a few minutes, pour in the crushed tomatoes, malunggay, herbs, and muscovado sugar. • Simmer uncovered for about 30 to 40 minutes in low heat. • Season with salt and pepper.
Better Burger Steak Instead of ordering the fast-food version which has fatty meat and high levels of salt and seasoning, make this homemade version. This recipe can also be used to make meatballs.
For the burger 1 kilo lean ground beef 2 tablespoons Worcestershire sauce 1 medium onion, chopped finely 1 medium apple, grated 1 egg Salt and pepper
For the sauce 1-1/2 cup sliced mushrooms (try and use fresh button mushrooms if you can) 4 small shallots, chopped finely 2 tablespoons butter 1 tablespoon olive oil 2 tablespoons flour 1-1/2 cups beef or chicken stock 1/4 cup low fat sour cream or plain yogurt
• Preheat the oven to 350F. • Mix all the ingredients for the burgers, and form into patties. Brown them quickly in a non-stick pan with a little oil. • Place burgers in a lightly oiled baking dish and cook in the oven for 20 minutes. • Make the sauce by melting the butter and oil, and sautéing the shallots until golden. • Add the mushrooms, season, and cook for another 5 to 8 minutes. • Add the flour and cook for another 5 minutes. Slowly add the stock. • Cook over low heat until it thickens a little and loses its floury flavor. Add sour cream or yogurt and season to taste. • Pour the mushroom sauce over the burgers, and bake for another 5 to 8 minutes until sauce starts to bubble. • Serve.
Katrina and Lara's most helpful book